Today's post will be short and sweet. We just got back from our whirlwind vacay for the girls' birthday, and I have a mountain of laundry to attend to (more on our vacay tomorrow).
I couldn't let today slip by, however, without discussing last night's grand finale of awards season: The 85th Annual Academy Awards. This is the big one. The one where the stars bring their fashion A-game. The one that goes on forever and ever. And while I was slightly disappointed by the lack of show-stopping gowns (and color, honestly), there were definitely a few ladies who made me sit up and pay attention. As always, I'll start with the worst of the night and save the best for last.
My top 5 Worst Dressed at the 2013 Oscars are:
5. Jennifer Garner in Gucci
Oh Jen. I know this is Ben's night, but really? Did your kids pick this one out? The color is beautiful, but what is up with the excessive back ruffles? I could do without most all of it. Love the necklace, though.
4. Salma Hayek in Alexander McQueen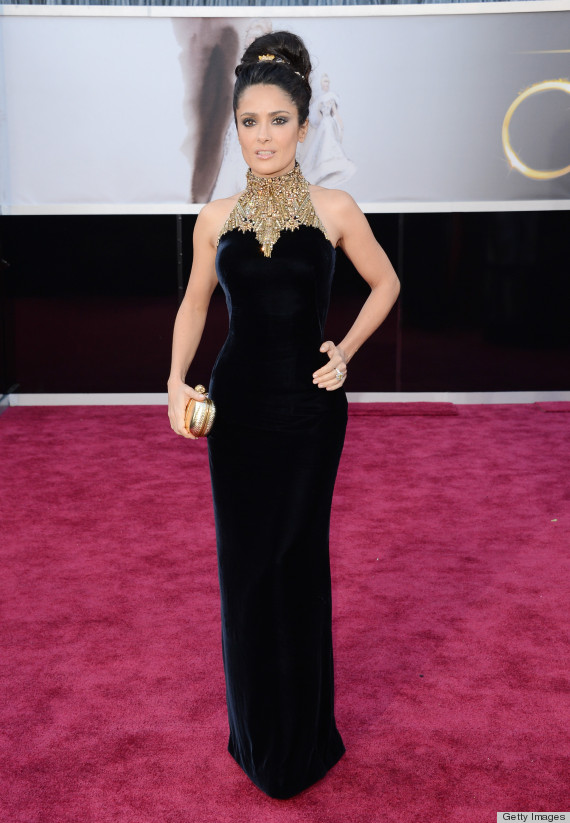 I love a good Alexander McQueen. His gowns are usually a great mix of hard and soft and filled with stunning, intricate work. This dress is no exception. Except for the fact that it is wearing her instead of her wearing it. A for effort, darling, but this is too much dress for you.
3. Brandi Glanville in her own line, Brand B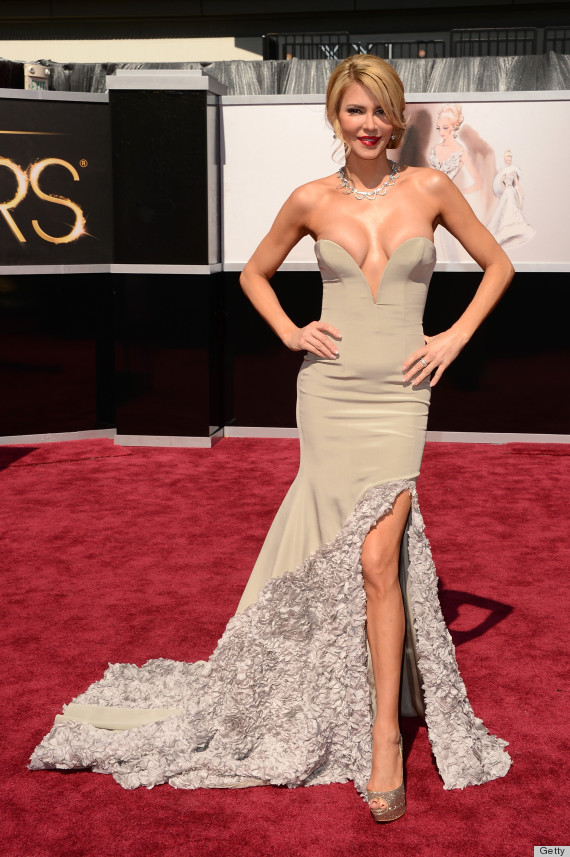 I'm sorry, who are you? What are you doing at this show, besides looking a hot mess? Just, no.
2. Anne Hathaway in Prada
Annie, Annie, Annie. You have been nothing but a disappointment to me this awards season. THIS WAS YOUR YEAR, girl. This dress is a boring color, the jewelry is meh, and the DARTS. Don't even get me started on those awful, awful bust darts. I heard you say in an interview you decided on this dress at the last minute. And it shows.
1. Melissa McCarthy in David Meister
I love Melissa. She is insanely hilarious. But this dress is so wrong for her. The proportions are off, the fit is off, the color is hideous. And let's not get started on that hair. Melissa, please get with Octavia Spencer and let her introduce you to Tadashi Shoji. I AM BEGGING YOU.
And now for my top 5 Best Dressed at the 2013 Oscars:
5. Amy Adams in Oscar de la Renta
Yes, this is another muted dress in a long line of boring, colorless dresses that everyone seemed to be wearing last night, but look at that train. That is straight up Hollywood glam drama, and what I fully expect to see at the Academy Awards. Amy, please wear a necklace next time, though.
4. Jennifer Lawrence in Dior Haute Couture
JLaw knew this was her night and she brought it. A lot of people are iffy that this look was too "bridal," but my question is why does every white dress have to be "bridal?" This is a lot of dress to be bridal to me. I love the fit, the color, and her makeup and hair. She looks fresh and not overworked.
3. Halle Berry in Versace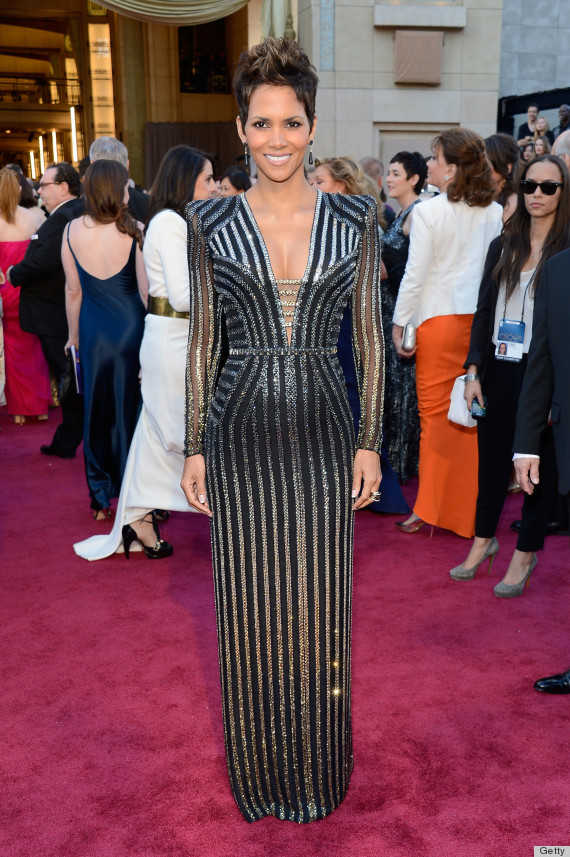 WERQ that Dynasty-shoulder-pad-glitter-queen look, Miss Thang! You have completely redeemed yourself from that Golden Globes debacle a few weeks ago. I don't care if this look is a 70's throwback, I lurve it.
2. Jessica Chastain in a custom Armani Privé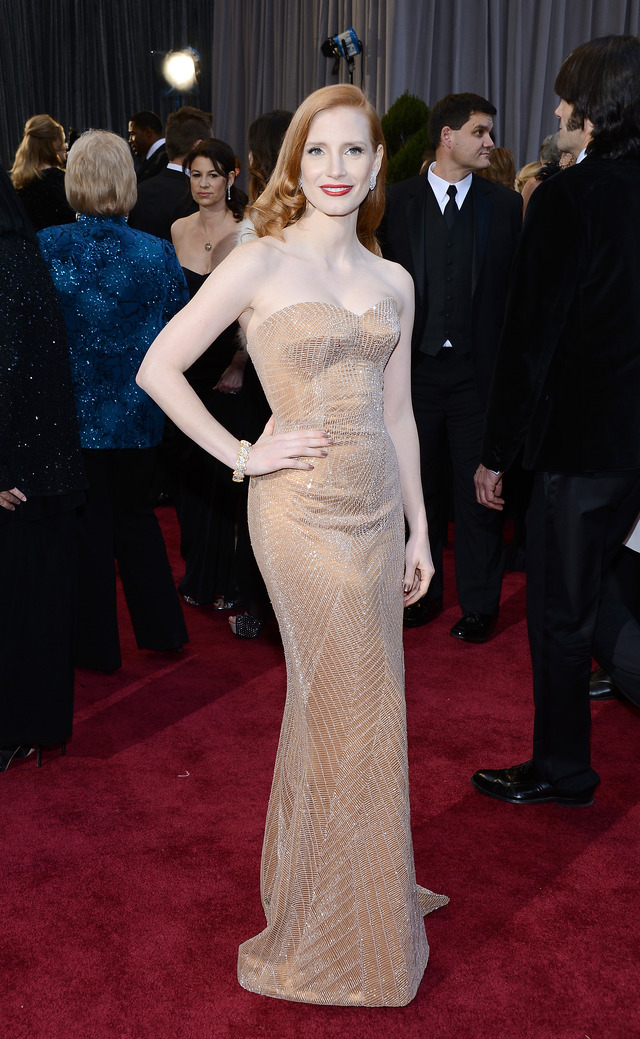 Another look that most people were iffy about. "Why isn't she wearing green?" "I would love that dress if it was blue!" Newsflash people! Redheads don't always have to wear green or blue to look fierce. Remember what she wore at the SAG Awards? I love this gown and her old Hollywood glamor hair. Everything about this look works for me.
1. Naomi Watts in a custom Armani Privé
WOWZA. Now there's the drama I've been looking for. The neckline is so interesting and, despite the lack of color, I think the bedazzling makes her skin glow. She looks youthful without all the painful, Botox-like expressions so many celebs are now sporting. It fits her like a glove and is appropriately hemmed. This may not have been your night, Mrs. Schreiber, but you made sure we all paid attention to you anyway!
So what were your favorite looks of the night? Do you agree or disagree with my picks? And what about Seth McFarlane, huh? I thought did ok, and, despite the critics comments, thought his opening bit was pretty funny.