It's that time of year again, y'all! The celebs are out in force, pole dancing their way (to borrow a phrase from my fave fashion bloggers) to those coveted Oscars next month! Of course, the best part of all awards show, in my humble opinion, is that red carpet. Without further adieu, here are the best and worst from last night's Golden Globes. Hit it!
Top 5 Worst Dressed
5. Zosia Mamet in Andrew Gn
Your hair should not be the same color as your dress should not be the same color as your skin. I cannot tell where the dress ends and you begin. A bold lip would have helped too.
4. Taryn Manning in Oscar de la Renta
God rest his soul, I don't know that I've ever seen an Oscar dress this ugly. It looks like a trash bag. And that hair is unflattering too.
3. Jemima Kirke in Rosie Assoulin
Ok, wait. Did the ladies of Girls get together and decide to wear the blandest, least flattering thing possible? If so, you accomplished that feat by a mile. This is doing absolutely nothing for her. She should have come dressed like her character from the show. At least she'd be more colorful than this.
2. Kristen Wiig in a peasant-style dress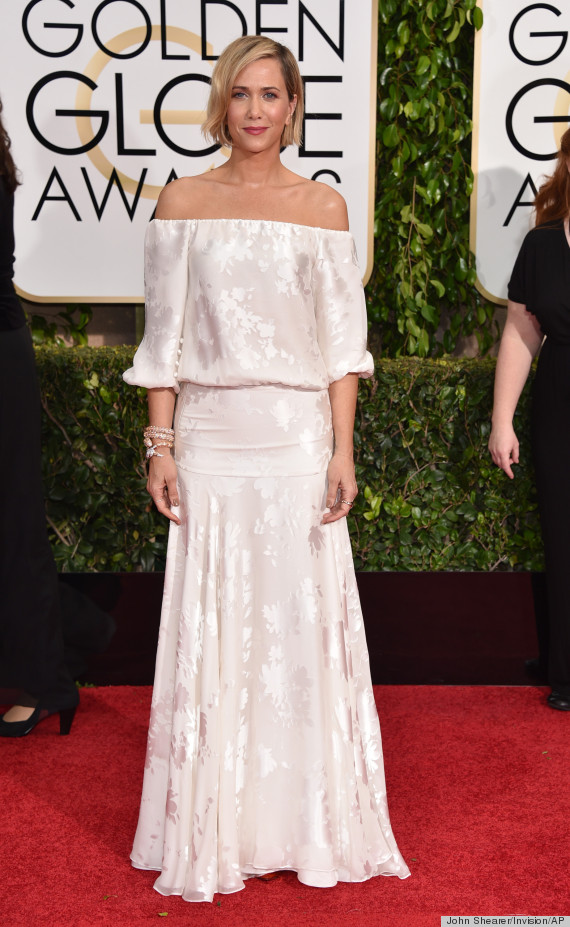 I love you, Kristen. You're absolutely hilarious. This dress, however, is tragic. Why is everyone wearing such bland colors?? It's also ill-fitting in the top, and her hair is a mess. Please fire your stylist and start over.
1. Melissa Carthy in a gown she custom designed herself
This is so sad to me because of love the cheekiness of it from the chest up. I don't love any of it from the waist down. I am still waiting on you to get up with Octavia and call Tadashi Shoji, Melissa! Do it for the rest of us who long to see you in something spectacular instead of a sack!
Special Shoutout to Rosamund Pike in Vera Wang who made me say "What the…?" out loud while scrolling past her photo.
I know lady just had a baby, so kudos for being out on the red carpet so soon, but yikes.
Oof. Ok. Now we can move right along to the better half of this post.
Top 5 Best Dressed
5. Claire Danes in Valentino
I know I'll probably have a lot of disagreement about this dress, but I loved it. It's at the bottom of my list because it looks a skosh too big at the top, but I am living for that print. Her accessories are gorgeous and the hair is soft and pretty.
4. Lupita Nyong'o in Giambattista Valli Haute Couture
Only Lupita Nyong'o could make this dress work. I love it all, except the top part that looks like a grade school project of glued-on flowers. The color and fit, however, are perfect, and her hair and makeup game is on point. This woman is just beautiful.
3. Jessica Chastain in Atelier Versace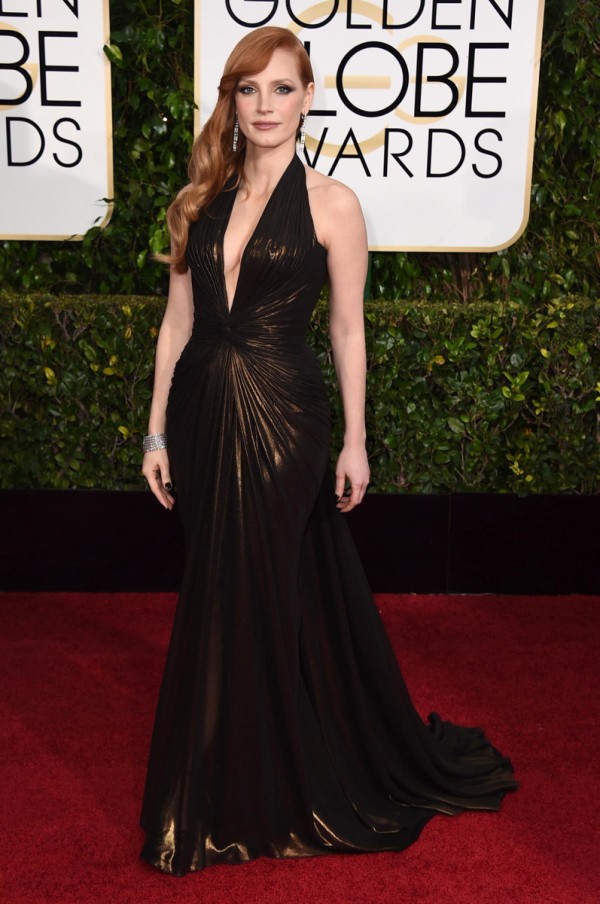 This is a personal best for Miss Jessica. The last time I saw this much smokin' hotness from her was at the SAG Awards when she was nominated for "Zero Dark Thirty." It would be ranked higher, but I feel like it's a little expected. I hope she wows me again at this year's SAG Awards. LOVE her hair.
2. Julianne Moore in Givenchy Haute Couture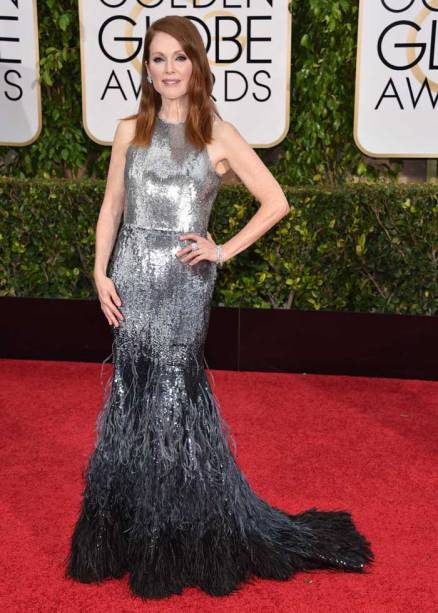 Again, this seems like a personal best for Miss Moore. I haven't seen her look this good in a while. She usually wears such wacky things, it's refreshing to see refined and elegant on her. Love the colors.
1. Ellie Kemper in Naeem Khan
LOVE. Everything about this look. The dress is interesting. Her hair is beautiful. The makeup is just right. If this dress had been in a color, I think it would have elevated it to a WERQ, but, in any case, she was the best dressed of the night for me.
Special Shoutout to David Oyelowo in a sparkly blue suit for being one of last night's best dressed men.
Love the color and the fact that it's sparkly!
Who was on your best and worst dressed lists from last night? Did I miss anyone?