Did you make it through the worst dressed post? I know, it was rough. Thanks for sticking with me! This post should help you cleanse your fashion palate. Here we go!
Top 5 Best Dressed of the 2014 Emmy Awards
5. Melissa McCarthy in Marchesa
Bravo, bravo, bravo Miss lady! Absolutely perfect. Finally, FINALLY someone designed a dress for her instead of around her. I wish she was wearing an actual color instead of black, but really that's a minor thing. I love the bead work at the waist, and her hair and makeup are on point. Personal best for her.
4. Kiernan Shipka in Antonio Berardi
This girl is a teenager. A TEENAGER. And she looks fabulous. And age appropriate. And venue appropriate. Older starlets could do with taking notes from her. Loving the hair and the shoes also.
3. Uzo Aduba in Bespoke Christian Siriano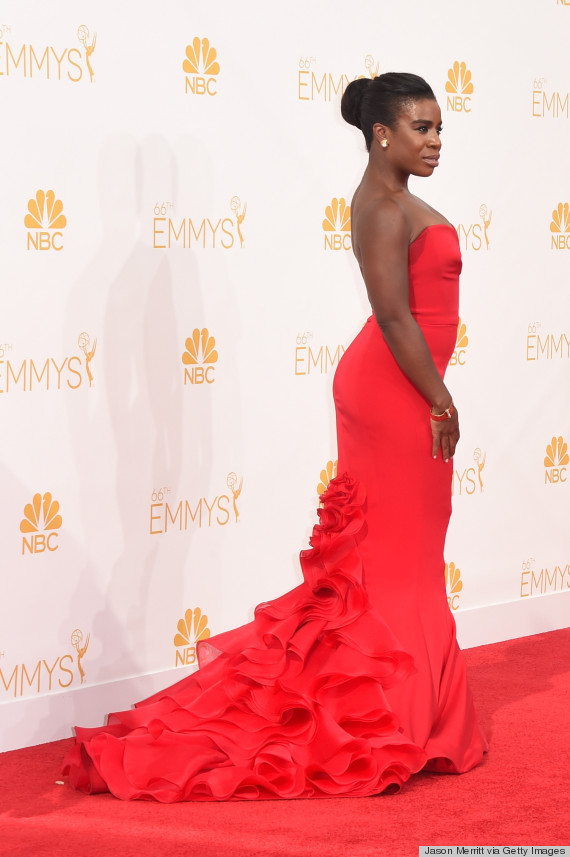 Uzo has clearly, clearly upped her style game. I mean, how can you not notice her? Stunning. The color, the fit, the hair…it's absolutely beautiful. Apparently Christian Siriano was the designer of the night last night (at least 4 stars were wearing his designs), and I couldn't be more thrilled for him. I've been a huge fan of his since his Project Runway days, so I'm really happy to seen him succeed and see famous folks wearing his wares. Great job on this dress, Christian.
2. Teyonah Parris in Christian Siriano
Speaking of Christian, here is another great example of his excellent work. Teynoah may not be well known to you if you don't watch Mad Men, but she's been playing Don's secretary since Megan left. She looks absolutely fabulous here. The colors are amazing, her hair is beautiful, and she looks like she's having a lot of fun. A great dress can bring out a great personality.
1. Lizzy Caplan in Donna Karen Atelier
Ummmmmmmmmm *jaw drop*
*unintelligible sound*
*picks jaw back up off of floor*
Lizzy Caplan kindly suggests that you step back and let a lady WERQ. Is there anything else to say, really?
So there you have it. Now you've seen my best and worst dressed of the 2014 Emmy Awards. Leave a comment and let me know what you think!