The Screen Actor's Guild held their annual awards show last night. Since the show is usually unbearably boring (and last night was no exception), let us commence with the fashion, shall we?
I had such a great response to my last fashion post, I think I'll keep doing these until awards season is over (feel free to pass these posts by if fashion is not your thing). I also want to throw out there that these are just my opinions, and everyone is entitled to their own, so if you disagree with me (or agree) speak up! Fashion is really subjective, and that's what makes is so fun!
Without further adieu, my top 5 Worst Dressed of the 2013 SAG Awards are:
5. Anne Hathaway in Giambattista Valli
Girl, this is not your dress. I am SO over the sheer-overlay-over-short-skirts thing. It has to stop. And not that Anne is "old" by any means, but this dress would probably look better on someone younger (a la Kiernan Shipka). It's kinda bland and quite the opposite of the awesome fashion risks she's been taking lately. Bring it up a notch for the Oscars, please Annie?
4. Jessica Lange in J. Mendel
Jessica Lange is one of the best actresses on TV today. That being said, I don't think this dress does her any favors. It certainly wasn't the worst offender of the night, but I know she has looked better. That bodice is giving me a headache.
3. Claire Danes in Givenchy
Claire. WHY DID YOU DO THIS TO ME? You looked AH-MAY-ZING at the Golden Globes. Did you dress yourself this week? The dress is bland and your lipstick is horrendous. You have a huge hit show. You can do better.
2. Rose Byrne in Valentino
I want to like this look. I really, really do. The dress has beautiful colors in it, and it is different from the typical mermaid-train-sequin-glamazon look most movie stars do. But I can't get past the shoulders. And that awful, awful hair.
And my number 1 Worst Dressed at the 2013 SAG Awards is….
1. Julianne Moore in Chanel
The top is wrong, the color is wrong, the makeup is boring. I get the idea of this dress, I really do. It's whimsical and fun. But I cannot get past the ill-fitting bust. When you are a wealthy celebrity with designers throwing their garments at you so you can name drop them on television, at least have the decency to get your dress FITTED.
And now for the good stuff! my top 5 Best Dressed of the 2013 SAG Awards are:
5. IT'S A TIE! Jennifer Lawrence in Dior and Amanda Seyfried in Zac Posen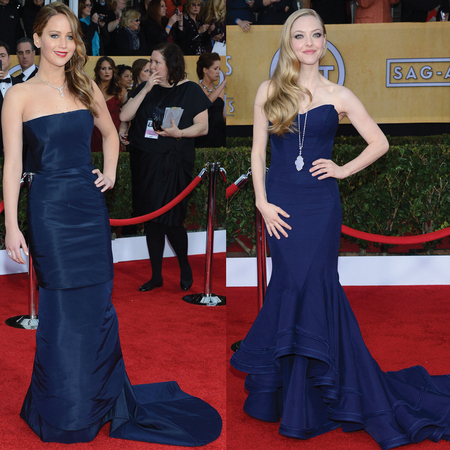 I couldn't decide who wore it best between these two gorgeous navy dresses, so they tied on my list. Jennifer's look isn't perfect because I hate her hair and Amanda needs to lose that necklace. That color is amazing on both of them though, so good job ladies.
4. Marion Cotillard in Dior
Obviously, navy was a huge trend on the red carpet last night and Ms. Cotillard followed suit. I love the simplicity of this dress. Sometimes it isn't always about the bejeweled ballgown or the cut-down-to-there neckline. A simple, but impactful and classic, fashion statement will do.  And her bob is fabulous.
3. Ellie Kemper in Reem Accra
Wowee. This color is GORGEOUS on her. I love all the details and her hair and makeup are phenomenal. Atta girl.
2. Jessica Chastain in Alexander McQueen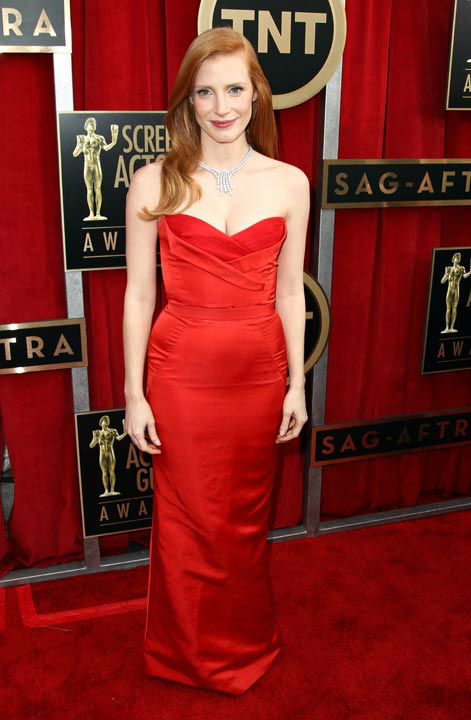 Thank you, Jessica! You look stunning, and I am so glad you are out to prove that redheads can, in fact, wear red. I hate that necklace though. I'm giving you one more shot at being my number 1 for the Oscars, so don't let me down!
And my number 1 Best Dressed of the 2013 SAG Awards is…
1. Nicole Kidman in Vivienne Westwood
Bam. The movie star formerly known as Nicole Kidman is back y'all. With a vengeance. The color is on trend, the earrings are amazing, and the texture of that dress is so visually interesting that I can't stop looking at it. I'm not really a fan of the stick straight hair, but it's so Nicole that I'll let it pass this time. Welcome back, Mrs. Urban.
The show last night might have been boring, but the fashion certainly wasn't. I had a really hard time narrowing down my top 5, so I wouldn't be surprised if you didn't disagree with me or wonder why I left someone off my list. The fashion was also so good last night that finding a few to put on the "worst dressed" side of things was actually difficult this time. What do you think? Did I get it right this week? Who did you think looked their best last night?