With the holiday season just around the corner, it's time to make some decisions about the gifts you want to give this year. I know everyone has that someone on their list that is difficult to buy for, but have you ever thought about gifting them a necessity? Sometimes giving a useful gift trumps giving a "fun" gift, especially if they are difficult to buy for anyway. And, sometimes, if you're lucky, you can give a useful gift that's also fun!
One of the fun necessities in my life are my glasses. Just a little over three years ago, I was told I needed to wear my "driving glasses" full time as my eyesight was just not what it used to be. My first pair of glasses was a sight to behold (nope, I won't be sharing those photos). They weren't "awful" per se, but they definitely weren't stylish or indicative of my personality. Thankfully, a kind friend turned me on to this great online company called Warby Parker (which has, in the years since I discovered them, opened a handful of brick-and-mortar stores).
Warby Parker is a fantastic company that operates off of the principle of "buy one, give one." That means for every glasses purchase you make, they will be giving one to someone in need. I love that a company I support gives back in this way. On top of feeling good about spending your money there, you can rest assured that you will find something stylish and current that won't break the bank. Most frames are $95, and that includes single vision lenses too! You can't find that price in your opthamologist's office (trust me, I've looked).
New for this season is their Winter 2015 collection. Full of icy blues and greys, this collection is definitely unique and cool (pun intended).
Wilder in Squall Blue Fade
Eaton in Tree Swallow Fade
Chelsea in Grapefruit Soda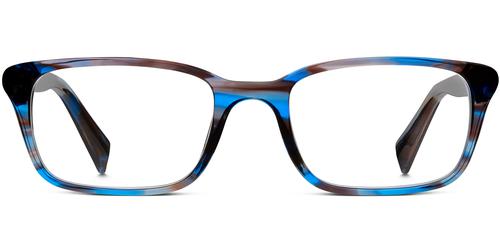 I can't decide if I like the Chilton or the Chelsea better (the hints of blue in all of these styles are kind of speaking to me). If you don't happen to live near a brick-and-mortar Warby Parker store, they have a convienient Home Try-On program. You select 5 frames you want to try-on, they ship them to you, and you have 5 days to try them on before you send them back.
The Home Try-On program is completely free, and it takes the hassle out of trying to guess which frame style and color looks best on your face. I posted some of my try-on photos on social media when I was first exploring my options, and I got a quick response from my friends and even a Warby Parker rep! They do everything they can to help you find the perfect glasses for you.
When you're shopping this holiday season, don't forget to think about necessities your friends and family might need. They may just thank you for taking care of it for them (I know I would)! Which frames are your favorite?