Today I grew tired of looking at my empty mantel. I often gaze at it, longingly, hoping some Pottery Barn-like beauty will just appear on it, and it won't depress me so much anymore. Ha. Ha.
Anywho, remember when we went all out for the girls' first birthday party? I mean, you only turn one once, right? Trust me, it was so worth all our effort and time, but I think it took so much brain power and creativity on my part that I've just been zapped for the past month. And our poor mantel has be absolutely, hideously vacant since the party. And by that I mean our framed mirror was up there. And that. Was it. Sad, huh? Well, I haven't really been inspired to do much with it, especially since I'm trying to be the good wife who doesn't shop online while the kids are napping, but I just couldn't stand to look at the emptiness any longer. I know what it's like to be tight on funding, but I also know I have this insane desire to decorate my home like a magazine (thanks for that gene, ma!). So, how do we solve the problem of  "champagne dreams and a beer budget?" Let me introduce you to my version of "the poor man's Easter decor."
Step 1: Find inspiration (for free) by surfing the web. These are a few of my favorites: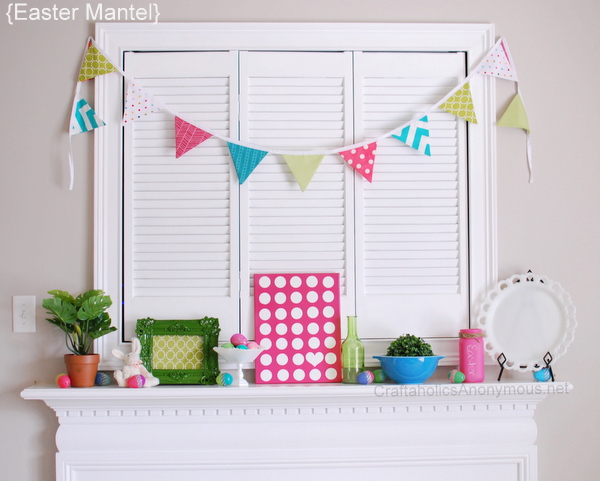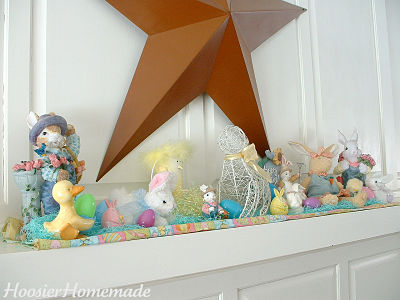 Step 2: Use what you have at home/what you've thrifted/what's been gifted to you to create your own mantel (for free). If you don't have a lot of Easter-y decor, head to the Dollar Store or Wal-Mart and pick up simple things like "grass", plastic eggs, a bunny/sheep/duck figurine, some candles and/or some sort of glass or plastic vases to hold your items decoratively. This should cost you $10 at the most. The idea for my mantel was the simpler, the better.
I'm kinda in love with these guys. They look a little vintage to me, and they're just adorable.
Step 3: Search the web for a site that has free printables. I got my Easter banner from here. There are many sites out there that host free printables, so just use good ol' Google to find the one you like.
Step 4: Assemble your mantel! Here's what mine ended up looking like:
Total cost for this bad boy? $1.97. And that was only for the plastic eggs which I did not have. Hope my post inspired you! Happy Easter!