Calling all the monsters! Calling all the monsters! Hotel Transylvania 3 is now available on Blu-Ray and DVD!
Hotel Transylvania 3 on Blu-Ray and DVD
Following the first two hit movies, Hotel Transylvania 3 shows us exactly what happens when Mavis surprises Drac with a family voyage on a luxury, haunted monster cruise ship! Of course, the rest of the Drac Pack had to tag alone, and that's when things get a little batty! Everyone is having a great time on the ship until Drac falls for the ship's mysterious (and dangerous) human captain, Ericka.
What could possibly go wrong this time? You'll just have to find out for yourself when you pick up your Blu-Ray/DVD copy of Hotel Transylvania 3 in stores ASAP!
Blu-Ray and DVD Giveaway
Can't wait to get your hands on your own copy of Hotel Transylvania 3? Great news! I've got just the giveaway for you!
Hotel Transylvania 3 Blu-Ray/DVD and Pillowcase Giveaway
You've got 5 ways to enter this awesome giveaway until 10/19!
One winner will receive a Blu-Ray/DVD copy of Hotel Transylvania 3 and a trick-or-treat themed pillowcase!
Hotel Transylvania 3 Blu-Ray/DVD Extras
So many great extras are included on the Blu-Ray/DVD/Digital combo pack!
Three all new "Scary-Oke" sing-a-longs, including "Dennis Had a Giant Dog," "Monsters Like to Party Down," and "Oh These Wolf Pups."
Vampire makeover tips: learn how to turn yourself into your favorite Hotel Transylvania 3 characters!
Behind the "Screams"-the voices of Hotel Transylvania 3
"I See Love" Monster Party Dance Along
So much more!
Get your Hotel Transylvania Party On!
Along with the fun sing along songs and voice features, there are also some incredible ideas to help you plan your own Spooktacular Sleepover! From snacks to crafts to games and more, make sure you watch that bonus feature ASAP!
In the meantime, check out these fun pumpkin carving stencils inspired by Hotel Transylvania 3!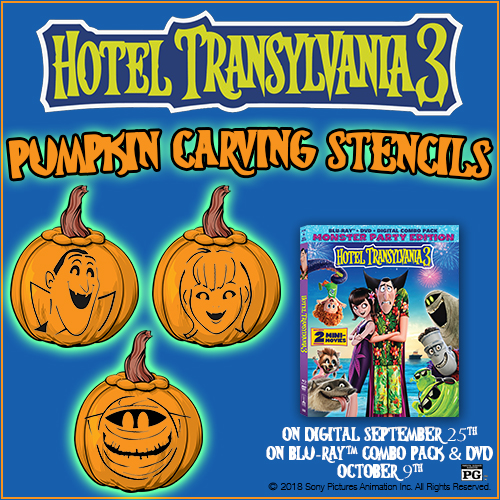 Click here to download the stencils for yourself!
Throwing a "monster" of a party? Then you definitely need all of these Hotel Transylvania inspired party ideas! I can't wait to see your ideas come to life this season! Share this giveaway with the monsters in your life, and make it a family movie night in!