We just had one of those weekends where we didn't do much, and, to be honest, it was really nice. Nowhere to go, nowhere to be….sometimes you need weekends like that.
Although we did not have scheduled plans, I did go with Neil and his cousins to see "Jurassic World" on Saturday, and I was pleasantly surprised by how much I liked it.
I'm a big fan of the original "Jurassic Park" movie (can you believe it's been around for over 20 years???), and the new one did a nice job of hinting at its origins. It was fairly predictable, but there were definitely still moments that made me grab the armrests and hold my breath (everyone does that at the movies, right?). Chris Pratt was great in his role as Navy veteran Owen Grady. He had just the right amount of charisma and comedic timing to make him a likable hero. And, can I just say….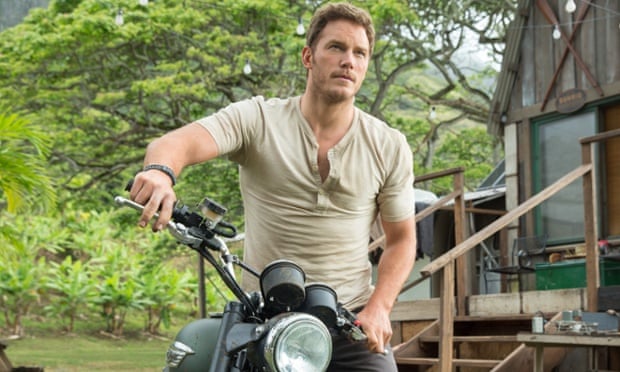 This man looks ridiculously good on a motorcycle. If someone does not cast him as the next Indiana Jones, they will be missing out. For real.
While we were at the theater, I scoped out a few of the upcoming movies I've previously blogged about.
I cannot wait to take the kids to see "Inside Out" on Friday! This little setup by the water fountains was way to cute not to snap a photo of.
Also, Paul Rudd. Another charismatic, comedic action hero I can get behind. Marvel is really pulling out all the stops this summer with their movies.
Sunday was spent with our church family watching Caroline and Mackenzie sing their songs they'd learned the week before at VBS. Below is just a sampling of the sweetness we witnessed on Sunday.
If you thought that was sweet, check out my YouTube channel for a few other videos of their songs. What were you up to last weekend?